The exercise is going well.  I'm meeting my goal of putting in at least 1/2 hour of some sort of exercise, outside of what I normally get on the job, at least five of every seven days.  I figured that I got ten hours' worth in last week, and I'm hoping to keep this going.
Already, I feel like I have more energy, overall, which is an incredible thing for a fibromite such as myself.  Those spoons are hard to come by, and having more of them is simply AMAZING, especially after only a few days.
But enough about that…I'm sure there will be plenty more in the future.  For now, some words about where I've been walking the past few days!
Sunday, April 29, 2012:
After returning home from a First Communion Party, we did some yardwork.  Nothing extensive, but it did require a bit of walking around behind a spreader.  We put the swing together and rewarded ourselves with a nice sit-down, in between the lilacs.
Our quite lovely flowering crab trees, and yard, on the overcast Sunday of fertilizing:
 Monday, April 30, 2012:
We stopped for grass seed (we'd fertilized on Sunday) to overseed some bare areas, so without even stopping to change (often my *wall* moment after a long day of work), we got down to it, doing yardwork.  It was a spetacularly gorgeous spring day: sunny, dry, 70s, mosquitoes not yet out (though ticks are). I got so happy out there moving around, I asked Justin if we could go and find the trails we'd found last fall behind our house.  Plus, I wanted to find our property stakes to see how far back into the woods was ours. He agreed, and we set out.
On Monday, entering the Unknown Beyond The Mown of our property:
On the interesting trails (we still have no ideas whose they are…they cross several property lines…but we hope to find out to ask formal permission to use them.  For now, we've seen nary a "No Trespassing" sign, and these nearly abut our own property, so what the heck.  It's GORGEOUS back there!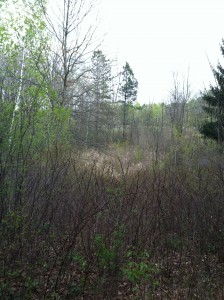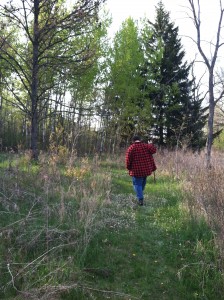 Wednesday, May 2, 2012:
I'd signed up to join the teachers' group that has an Adopt-a-Highway section along a four-lane (with median) Highway #169 south of Onamia, MN.  Today was the day…and we lucked out!  It wasn't raining as we'd thought.  It was, however, extremely muggy and quite warm.  Because I'd signed up and we ride together, Justin joined us (and wound up much happier for it).
Here's us wearing our lovely fluorescent yellow vests, me sweating like mad:
Views down the highway:
Our new friend (that we moved from the shoulder to the wetland in the ditch).
The ditches, full of reeds and marsh, were full of red-winged blackbirds, and they were gorgeous. One of the group found a $20 bill, under a little scrap of paper. Justin and I discovered the remains of a snowmobile crash…plenty of windshield pieces still around.  People threw out, or lost, pieces of plywood, dozens of weird little blue plastic squares we couldn't identify, some straps, and a large 8-gallon bucket (now full of marshwater and mud that Justin emptied).  The ditches were also full of ticks; Justin's found two so far since we got home.
When we first began our section (Justin and I were a pair, walking south), I thought to pick up cigarette butts as well as larger pieces of garbage.  After about fifty feet, I saw the sheer idiocy of such a plan; without a garbage poking stick or claw, it was ridiculous to think we could cover our mile-plus section if we did so, let alone being physically able to bend over that often.  As it is, I'll likely be very sore tomorrow–waist, backs of my legs, and the usual top-of-foot tendons–from bending over every four seconds to pick crap up, sweat pouring in my eyes and stinging.  (Next time: sweatband, plus better gloves.)
The walk back, since we got to set down the heavy bags and just pick up things we'd missed, was extremely pleasant.  By that time, there was a whole group of us heading back, and it was an added bonus that I got to know some of my coworkers better (two of them in this grouping were elementary teachers, so I don't know them at all).
The sweat dried, I got to wash off in cool, lavender-smelling water when I got home, I worked up an honest appetite (chicken and two kinds of veg, tonight), and it was 75 minutes of very good exercise that also benefitted the Earth. Ain't nothing wrong with any of that!